In times of inc­rea­sing glo­ba­liza­tion, inter­na­tio­nal com­p­li­ance work plays an inc­rea­sin­gly important role. Since many com­pa­nies today have sub­si­dia­ries in many dif­fe­rent coun­tries, it is parti­cu­larly important to con­s­i­der the cul­tu­ral con­di­ti­ons as well as the orga­niza­tion and matu­rity of the cor­po­rate land­s­cape of the respec­tive coun­try when alig­ning the com­p­li­ance stra­tegy.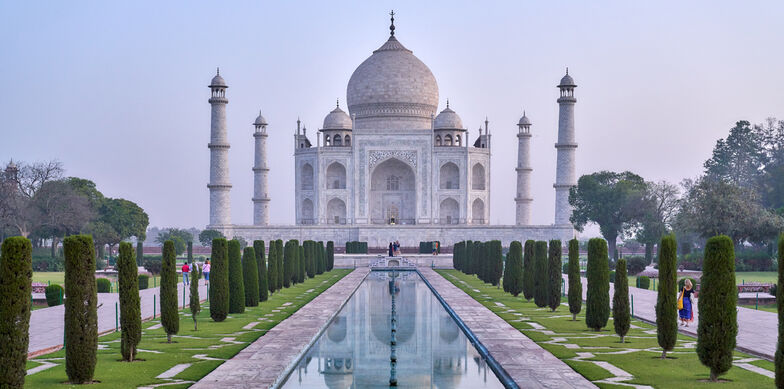 These dif­fe­rent aspects show that it is impe­ra­tive for a busi­ness to align the inter­na­tio­nal sub­si­dia­ries cul­tu­rally and ideo­lo­gi­cally with the parent com­pany.
To achieve this, large com­pa­nies have gene­rally imp­le­men­ted exten­sive, but mostly stan­dar­di­zed, com­p­li­ance mana­ge­ment pro­grams in their coun­tries. On the other hand, SMEs often lack this basic design, which can also be obser­ved in Ebner Stolz Com­p­li­ance Study of 2018.
Gene­ral cul­tu­ral dif­fe­ren­ces
Let's take a clo­ser look at India: The coun­try is cha­rac­te­ri­zed by a diverse and strong cul­ture that is sha­ped not only by its history, but also by today's way of life.
India is not only the second most popu­lous coun­try in the world, but also an up-and-coming indu­s­trial nation, which today ranks among the top 10 invest­ment loca­ti­ons world­wide. Com­p­li­ance work in India pres­ents Ger­man com­pa­nies with spe­cial chal­len­ges. Her­ein, we attempt to high­light some of the regio­nal and cul­tu­ral aspects to be con­s­i­de­red:
CUL­TU­RAL SEN­SI­TI­VITY AND LAN­GUA­GES
India is a cul­tu­rally diverse coun­try with 22 major lan­gua­ges spo­ken in 29 sta­tes and 7 union ter­ri­to­ries. While the cul­tu­ral dif­fe­ren­ces are clear to the out­side world, they are also pre­sent wit­hin the coun­try. Depen­ding on the state and region, cul­tu­ral spe­ci­fi­ci­ties should be taken into acco­unt in pre­pa­ra­tion of the approach to com­p­li­ance.
LEGAL AND LAW ENFOR­CE­MENT FRAME­WORKS
It is essen­tial to know the local legal frame­work in order to under­take any com­p­li­ance intia­tive. In India, for example, the upda­ted anti-cor­rup­tion law was pas­sed last year. Under the Pre­ven­tion of Cor­rup­tion (Amend­ment) Act of 2018, anyone who offers a bribe can now also be prose­cu­ted. Pre­viously, only those who recei­ved bri­bes (such as civil ser­vants) were punis­hable under this law. Any direc­tor / part­ner, of a com­mer­cial orga­niza­tion which has been pro­ven of an offense under the Act shall also be lia­ble to be prose­cu­ted under the Act.
LACK OF AWAR­NESS OF DIGI­TAL EVI­DENCE
Most Indian com­pa­nies lack a gene­ral awa­re­ness of the import­ance of digi­tal evi­dence. And since most com­pa­nies lack a defi­ned fraud res­ponse plan, the con­se­qu­en­ces of white-col­lar crime are often chaotic.
When fraud is unco­ve­red, com­pa­nies usually try to inves­ti­gate and access the sub­ject's com­pu­ter on their own. Valuable evi­dence is often tam­pe­red with. This also rai­ses ques­ti­ons about the admis­si­bi­lity of evi­dence in court, since mea­su­res have been taken on the com­pu­ter of the affec­ted per­son wit­hout the pre­sence of an adju­di­ca­ted per­son­nel or aut­ho­rity.
CHAL­LEN­GES WHILE CON­DUC­TING INTER­VIEWS
One of the most criti­cal pha­ses in con­duc­ting inves­ti­ga­tion is the inter­view phase. Indi­ans are con­s­i­de­red highly emo­tio­nal and sen­si­tive people, even when it comes to the pro­fes­sio­nal environ­ment. The­re­fore, con­duc­ting inter­views, whe­ther accu­satory or other­wise, can be seen as a daun­ting task.
In order to con­duct a suc­cess­ful inter­view in such an environ­ment, an inter­vie­wer must con­s­i­der the fol­lo­wing points:
Buil­ding a per­so­nal rela­ti­onship with the inter­vie­wee during the inter­view
Indi­ans are not used to ext­re­mely for­mal dia­lo­gues and dis­cus­si­ons. Even in a for­mal environ­ment they will app­re­ciate a per­so­nal con­ver­sa­tion more and become open for the exchange of infor­ma­tion. If a per­sis­tent for­mal approach is cho­sen, the res­pon­dent will cer­tainly become very defen­sive and will not divulge any infor­ma­tion. It might be help­ful if the inter­vie­wer first sha­res some per­so­nal expe­ri­en­ces. This allows the inter­vie­wer to estab­lish a per­so­nal con­tact with the res­pon­dent and con­vince them that they are only pre­sent to help.
The inter­view team must involve local/regio­nal experts
For most people in India, the pre­sence of a for­eig­ner is always very inti­mi­da­ting. This is a natu­ral obst­a­cle to open com­mu­ni­ca­tion. To avoid this and to create a more plea­sant atmos­phere, a local/regio­nal rep­re­sen­ta­tive should be part of the inter­view team.
Con­clu­ding remarks
Com­p­li­ance work in India pres­ents Ger­man com­pa­nies with spe­cial chal­len­ges. Howe­ver, if cul­tu­ral dif­fe­ren­ces are taken into acco­unt and suf­fi­ci­ent pati­ence is brought along, suc­cess can also be achie­ved here in the long term.
For this and more, Ebner Stolz has a dedi­ca­ted Indian Com­p­li­ance desk for all your busi­ness needs in the Indo-Ger­man chan­nel. Whe­ther you need sup­port in India with con­duc­ting risk review or inves­ti­ga­ti­ons, or to your needs in Ger­many for inter­nal audits, con­sul­ting, advi­sory and legal ser­vices, Ebner Stolz is your one stop solu­tion.
Ebner Stolz India Desk Ser­vices
Out­bound - Go India
Insights into the com­p­li­ance and cul­tu­ral con­di­ti­ons in India as well as con­sul­ting on stra­tegy deve­lop­ment in India:
On-site exa­mi­na­tion of the frame­work con­di­ti­ons
Con­sul­ting for stra­tegy deve­lop­ment
Over­co­ming cul­tu­ral dif­fe­ren­ces
Sup­port in enhan­cing gover­nance and com­p­li­ance mea­su­res for sub­si­dia­ries in India:
Com­p­li­ance reviews and foren­sic inves­ti­ga­ti­ons at sub­si­dia­ries in India
Due dili­gence on indi­vi­duals / tar­get enti­ties / third par­ties
Co-sour­cing or out­sour­cing of finance func­ti­ons
Inbound - Go Ger­many
Enhan­cing gover­nance and com­p­li­ance mea­su­res for sub­si­dia­ries of Indian com­pa­nies in Ger­many and assis­ting in adverse situa­ti­ons when it mat­ters the most:
PROAC­TIVE SER­VICES
Risk assess­ments for risk iden­ti­fi­ca­tion and ana­ly­sis of com­p­li­ance struc­tu­res
Deve­lop­ment and imp­le­men­ta­tion of com­p­li­ance mana­ge­ment sys­tems (CMS)
Trai­ning / sup­por­ting emp­loyees regar­ding com­p­li­ance issues in Ger­many and EU
POST-FACTO REVIEWS
Anti-cor­rup­tion / inter­nal / com­p­li­ance inves­ti­ga­ti­ons
E-dis­co­very and Digi­tal Foren­sics