We tal­ked about what´s inclu­­ded in this act and what impact the mea­­su­­res have on enter­pri­­ses in the U.S. and on mul­­ti­na­­ti­o­­nal groups with sub­­­si­­dia­ries in the U.S. with Mike Smith and Gret­chen Wha­len, both prin­ci­pals of our NEXIA-par­t­­ner Clif­­ton­Lar­­so­­nAl­­len LLP in Char­­lotte, U.S.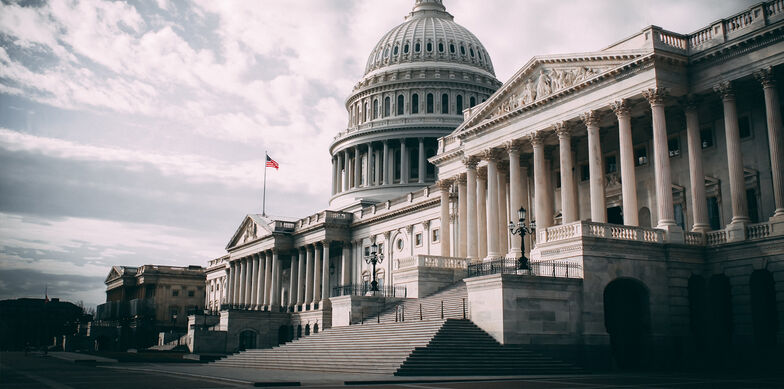 Mr. Smith, could you pro­vide us with a short over­view about what is inclu­ded in the CARES Act?
On March 27, 2020, Pre­si­dent Trump sig­ned the Coro­na­vi­rus Aid, Relief, and Eco­no­mic Secu­rity (CARES) Act, the third phase of legis­la­tion aimed at figh­ting the COVID-19 pan­de­mic and mit­i­ga­ting the rela­ted eco­no­mic harm for fami­lies, wor­kers, and busi­nes­ses. It is the lar­gest sti­mu­lus pac­kage in history, with an esti­ma­ted cost of $2.2 tril­lion.

Key aspects of the CARES Act are sum­ma­ri­zed below.
The CARES Act allows for a five-year net ope­ra­ting loss (NOL) car­ry­back for los­ses gene­ra­ted in the 2018, 2019, and 2020.
The CARES Act added a refun­da­ble pay­roll tax cre­dit equal to 50% of cer­tain com­pen­sa­tion paid from March 13, 2020, to Decem­ber 31, 2020.
The CARES Act allows for 100% bonus dep­re­cia­tion on cer­tain qua­li­fied impro­ve­ment pro­perty placed in ser­vice in 2018 and 2019.
The Tax Cuts and Jobs Act of 2017 (TCJA) repea­led the cor­po­rate alter­na­tive mini­mum tax (AMT) and pro­vi­ded an oppor­tunity for cor­po­ra­ti­ons to claim a refund of mini­mum tax cre­dit car­ryo­vers during 2018 through 2021. The CARES Act makes any remai­ning mini­mum tax cre­dit car­ryo­vers fully refun­da­ble in 2019.
Limi­ta­ti­ons on busi­ness inte­rest expense deduc­ti­ons are eased under the CARES Act.
Indi­vi­duals are entit­led to a "re­co­very rebate" of $1,200 ($2,400 mar­ried filing joint) under the CARES Act, plus an addi­tio­nal $500 per qua­li­fying child, if you are a U.S. resi­dent and can't be clai­med as a depen­dent of ano­ther tax­payer. This rebate is sub­ject to modi­fi­ca­tion for tax­pay­ers rea­ching cer­tain income levels.
Under cer­tain cir­cum­stan­ces, the CARES Act wai­ves the 10% pen­alty on an early with­dra­wal from an indi­vi­dual reti­re­ment acco­unt for up to $100,000 of dis­tri­bu­ti­ons for coro­na­vi­rus-rela­ted pur­po­ses made on or after January 1, 2020.
For addi­tio­nal infor­ma­tion, please read CLA's arti­cle.
Are the tem­porary rules sur­roun­ding net ope­ra­ting loss car­ry­backs use­ful to sup­port com­pa­nies in eco­no­mi­cally rough times?
The ans­wer is a resoun­ding "Yes"!

If an indi­vi­dual or Sub­ch­ap­ter C cor­po­ra­tion gene­ra­ted a net tax loss during 2018, 2019, or 2020, a CARES Act pro­vi­sion allows such tax­pay­ers to carry the loss back to off­set taxable income during the pre­vious five tax years. This would gene­rate a refund of taxes paid in ear­lier years. In many cases, the IRS will pay those refunds wit­hin 90 days, pro­vi­ding imme­diate cash flow bene­fits. Alter­na­ti­vely, tax­pay­ers can choose to carry the loss for­ward to off­set future income.

It is important to note that federal income tax rates gene­rally were hig­her before 2018 and, thus, the cash flow value of an NOL car­ry­back is likely more valuable than car­rying for­ward the NOL. More­o­ver, it is to remem­ber that this is a federal income tax bene­fit and state income tax laws adop­ting the CARES Act may vary. Last, tax­pay­ers should con­s­i­der approa­ches to maxi­mi­zing their 2020 los­ses eli­gi­ble for car­ry­back, such as acce­le­ra­ting equip­ment purcha­ses, wri­ting off uncol­lec­ti­ble receivab­les, dis­po­sing of obso­lete inventory, and simi­lar tech­ni­ques.

For addi­tio­nal infor­ma­tion, please read CLA's arti­cle.
You men­tio­ned a lif­ting of inte­rest expense limi­ta­ti­ons, for how long and to what deg­ree is this defi­ned in the CARES Act?
The busi­ness inte­rest limi­ta­tion was added as part of the TCJA and gene­rally limits the deduc­tion for busi­ness inte­rest expense to the sum of (i) busi­ness inte­rest income, (ii) 30% of adjus­ted taxable income (ATI), and (iii) floor plan finan­cing inte­rest. Cer­tain small tax­pay­ers are exempt from the limit.
The CARES Act gene­rally inc­rea­ses the limit to 50% of adjus­ted taxable income (ATI) for 2019 and 2020, poten­tially inc­rea­sing inte­rest expense deduc­ti­ons and redu­cing taxable income (or crea­ting a net ope­ra­ting loss which can be car­ried back). Tax­pay­ers can elect to use their 2019 ATI in com­pu­ting the 2020 limit, pro­vi­ding relief for busi­nes­ses whose income dec­li­nes in 2020.
Mrs. Wha­len, taking the CARES Act in con­s­i­­de­ra­­tion, should mul­­ti­na­­ti­o­­nal com­pa­­nies with US sub­­­si­­dia­ries or affi­­lia­­tes review their tran­s­­fer pri­­cing poli­­cies and eva­luate oppor­­tu­ni­­ties to maxi­­mize these tax savings oppor­­tu­ni­­ties?

A com­pany's trans­fer pri­cing policy should be a living, brea­t­hing docu­ment. Now is an ideal time to revi­sit inter­com­pany tran­sac­tion pri­cing. As dis­cus­sed above, the CARES Act pro­vi­des nume­rous tax savings oppor­tuni­ties for U.S. cor­po­ra­ti­ons, nota­bly the 5-year NOL car­ry­back rule for los­ses incur­red in 2018, 2019, or 2020. Con­ceiv­ably, a mul­ti­na­tio­nal cor­po­rate group could enhance the NOL car­ry­back capa­city of its U.S. sub­si­diary by inc­rea­sing the mark-up char­ged to such sub­si­diary for inter­com­pany goods and ser­vices. A mul­ti­na­tio­nal group con­tem­pla­ting such a stra­tegy should con­s­i­der
the extent to which such mark-up is sup­por­ted by a for­mal trans­fer pri­cing bench­mar­king ana­ly­sis;
whe­ther the cash tax savings of the U.S. federal income tax refund is grea­ter than the addi­tio­nal income taxes paid in the home coun­try on the cor­res­pon­ding income inclu­sion; and
the pro­fes­sio­nal fees necessary to effec­tuate a refund claim.
CLA's tax pro­fes­sio­nals wel­come the chance to assist with a refund claim assess­ment and encou­ra­ges tax­pay­ers to begin the eva­lua­tion pro­cess by the end of the 3rd quar­ter to allow time for pro­per ana­ly­sis, docu­men­ta­tion and exe­cu­tion.

From a world­wide per­spec­tive, will the eco­no­mic down­turn cau­sed by the COVID-19 pan­de­mic hin­der the abi­lity of state govern­ments to col­lect taxes? How will they deal with bud­get short­falls as already occur­red in the last months?
Most U.S. sta­tes have expe­ri­en­ced a sig­ni­fi­cant dec­rease in tax col­lec­ti­ons with the impact of tran­sac­tion-based taxes, such as sales tax, felt almost imme­dia­tely as monthly repor­ting is requi­red in many cases. There is also an expec­ta­tion that income-based tax reve­nue will dec­rease sig­ni­fi­cantly, alt­hough this does not occur in real time as busi­nes­ses and indi­vi­duals make esti­ma­ted tax pay­ments quar­t­erly and file their tax returns annually.
Unlike the Uni­ted Sta­tes federal govern­ment, which has the capa­city to bor­row and create defi­cits, the indi­vi­dual sta­tes and local govern­ments gene­rally must balance their bud­gets each year. Thus, given sta­tes and cities have expe­ri­en­ced a dec­line in tax reve­nue, they have to eit­her inc­rease tax col­lec­ti­ons – which they can do by enhan­ced enfor­ce­ment of exis­ting laws or by adding new laws to inc­rease the tax rates – or broa­den the tax base. There has not been much acti­vity yet, but the expec­ta­tion is that we will see hig­her levels of exa­mi­na­tion acti­vity, such as what tax­pay­ers expe­ri­en­ced in 2008 and 2009. Addi­tio­nally, many sta­tes seem to be con­tem­pla­ting broa­de­ning their sales tax base. Each state has its own rules for iden­ti­fying tran­sac­ti­ons sub­ject to sales tax. The rules vary widely from state to state. For example, some sta­tes assess sales tax on soft­ware and elec­tro­nic goods and ser­vices while others do not.
In 2018 the Way­fair case deci­ded by the U.S. Sup­reme Court out­li­ned an eco­no­mic nexus con­cept which sti­pu­la­tes that inter­net retai­lers wit­hout pro­perty nor emp­loyees in South Dakota are lia­ble for sales tax in this state. Does this con­cept pro­vide sta­tes with a use­ful tool for inc­rea­sing tax col­lec­ti­ons? If so, how?
Abso­lu­tely. In the wake of Way­fair, many sta­tes pas­sed laws that busi­nes­ses were requi­red to begin col­lec­ting sales tax once they reach a cer­tain thres­hold in sales and tran­sac­ti­ons in the state – often $100,000 USD or 200 tran­sac­ti­ons. These laws have had varying effec­tive dates, typi­cally sometime bet­ween the second half of 2018 and early 2020. Curr­ently only two sta­tes that impose a sales tax (only 45 sta­tes do) do not have an eco­no­mic nexus thres­hold – Flo­rida and Mis­souri. Even though these laws made news throug­hout the US, many busi­nes­ses did not timely com­ply. Thus, sta­tes may find that they have a ready source of tax reve­nue wit­hin the com­pa­nies that delayed com­p­lying or have not yet com­p­lied. There are a variety of ways that sta­tes can iden­tify non-filers inclu­ding mat­ching up busi­nes­ses that file other tax types, iden­ti­fying ven­dors sel­ling to in-state busi­nes­ses as they audit those in-state busi­nes­ses, revie­wing finan­cial tran­sac­ti­ons that may be sha­red by finan­cial insti­tu­ti­ons and through revie­wing con­t­ents of trucks and ship­ping con­tai­ners ente­ring the state.
Finally, are there any furt­her tax breaks in the U.S. to be expec­ted in the future to alle­viate the eco­no­mic hardship cau­sed by COVID-19?
Both: As the 2020 Pre­si­den­tial Elec­tion sea­son starts to heat up, it is beco­ming more likely that the White House and Senate Repu­b­li­cans will not reach agree­ment with House Demo­c­rats on a new round of COVID-19 eco­no­mic relief.
In res­ponse to this sta­le­mate, Pre­si­dent Trump recently issued four exe­cu­tive orders that
post­po­nes col­lec­tion of federal pay­roll taxes on wor­kers making less than $104,000 annually for the period Sep­tem­ber 1, 2020 through Decem­ber 31, 2020.
wai­ves all inte­rest due on stu­dent loans held by the federal govern­ment through the end of 2020 and post­po­nes prin­ci­pal pay­ments until Decem­ber 31, 2020.
aut­ho­ri­zes the Secre­tary of the Trea­sury and the Secre­tary of Hou­sing and Urban Deve­lop­ment to iden­tify addi­tio­nal federal funds to pro­vide tem­porary finan­cial assi­s­tance to ren­ters and homeow­ners who, as a result of the finan­cial hardships cau­sed by COVID-19, are strugg­ling to meet their monthly ren­tal or mort­gage obli­ga­ti­ons.
man­da­tes FEMA to extend the lost wages assi­s­tance pro­gram to pro­vide a $400 pay­ment per week, which shall ref­lect a $300 Federal con­tri­bu­tion, to eli­gi­ble clai­mants from the week of unem­p­loy­ment ending August 1, 2020. A given state's con­tri­bu­tion would be $100 per week. The pro­gram exten­sion would run no lon­ger than Decem­ber 6, 2020.
Now that Pre­si­dent Trump has laun­ched his ope­ning salvo, what does Con­gress have in store for a res­ponse? In the near term, the ans­wer is- pro­bably not much. The politi­cal cli­mate in the Uni­ted Sta­tes remains con­ten­tious (one might say toxic) and the like­li­hood of new legis­la­tion pas­sing during the fall elec­tion cycle with a divi­ded Con­gress is practi­cally nil. But if we were to wake up tomor­row in the land of rain­bows and uni­corns and eve­r­yone got along, here is a glimpse of what House Demo­c­rats and Senate Repu­b­li­cans might pass as part of COVID-19 relief.
As pre­vie­wed in the Health and Eco­no­mic Reco­very Omni­bus Emer­gency Solu­ti­ons Act (''HEROES Act') pas­sed by the House in May 2020, the Demo­c­ratic majo­rity rei­te­ra­ted its dis­taste for cor­po­rate wel­fare by pro­po­sing to limit car­ry­backs of net ope­ra­ting los­ses incur­red in 2019 and 2020 to one year. In con­trast, the CARES Act enac­ted ear­lier this year allows for a five-year car­ry­back for los­ses incur­red in tax years 2018, 2019, and 2020.
In addi­tion, the HEROES Act rein­s­ta­tes the $250,000 ($500,000 for joint returns) limi­ta­tion on excess busi­ness los­ses for pass-through enti­ties and sole pro­prie­torships retroac­tive to tax years begin­ning after 2017.
The House Demor­c­rats' plan would also eli­mi­nate the wildly unpo­pu­lar- at least in high-tax "blue" sta­tes - $10,000 limi­ta­tion on the deduc­tion for (non­bu­si­ness) state and local taxes that was enac­ted as part of the Tax Cuts and Jobs Act of 2017.
Further­more, the HEROES Act con­ta­ins modi­fi­ca­ti­ons to the Emp­loyer Reten­tion Pay­roll Tax Cre­dit; pro­vi­des for a pay­roll cre­dit for cer­tain fixed expen­ses of emp­loy­ers sub­ject to clo­sure by rea­son of COVID-19; grants a busi­ness inter­rup­tion cre­dit for cer­tain sole self-emp­loyed indi­vi­duals; and allows for pay­roll tax pay­ment defer­rals in cer­tain situa­ti­ons.
On Mon­day, July 27, 2020, the Repu­b­li­can-con­trol­led Senate unvei­led the Health, Eco­no­mic, Lia­bi­lity and Schools Act ("HEALS Act"). Simi­lar to the HEROES Act, the HEALS Act con­ta­ins pro­vi­si­ons for modi­fying the Emp­loyer Reten­tion Pay­roll Tax Cre­dit as a means to incen­ti­vize work­force reten­tion.
The Senate bill also expands the Work Oppor­tunity Tax Cre­dit ("WOTC"). Under cur­rent law, the WOTC equals 40% of an eli­gi­ble new emp­loyee's first $6,000 in wages. The pro­po­sal would inc­rease the cre­dit to 50% of the emp­loyee's first $10,000 and expand the cate­go­ries of eli­gi­ble emp­loyees to include anyone recei­ving unem­p­loy­ment insurance imme­dia­tely prior to their hiring and before next year.
More­o­ver, the HEALS Act would add a new busi­ness tax cre­dit for qua­li­fied emp­loyee pro­tec­tion expen­ses, qua­li­fied work­place recon­fi­gu­ra­tion expen­ses, and qua­li­fied work­place tech­no­logy expen­ses. The tax cre­dit would equal 50% of the afo­re­men­tio­ned qua­li­fied expen­ses, sub­ject to a cap of equal to $1,000 for each of the first 500 emp­loyees, plus $750 for each emp­loyee bet­ween 500 and 1,000, plus $500 for each emp­loyee that exceeds 1,000. This tax cre­dit is inten­ded to incen­ti­vize emp­loy­ers to pro­vide COVID-19 tes­ting, pro­tec­tive equip­ment, clea­ning sup­p­lies, and office modi­fi­ca­ti­ons aimed at detec­ting, con­tai­ning, and eli­mi­na­ting coro­na­vi­rus in the work­place.
Despite dif­fe­ren­ces in the Senate and House bills, the idea­list holds out hope that the par­ties will come toge­ther to recon­cile their disa­g­ree­ments and pass legis­la­tion for the good of the Ame­ri­can people. Yet it is dif­fi­cult to tune out the cynic, who reci­tes a quote by Pre­si­dent Rea­gan from a gene­ra­tion ago, that "In this pre­sent cri­sis, govern­ment is not the solu­tion to our pro­b­lem, govern­ment IS the pro­b­lem." In the end, perhaps, we com­pro­mise by agre­eing that there's always 2021.